Start med stangen ved knæene og bøj dig forover uden at bøje alt for meget i knæene. Hold ved stangen i skulderbredde og med modsatrettede hænder. Rejs dig ved at strække i hoften. Træner øverste del af dødløftet.

Rack pull træner den øverste fase af dødløft. Stangen starter ved knæene i stedet for på gulvet.

Fordele ved rackpulls er, at de styrker ballemusklerne, baglårene, kropsstammen, øvre ryg og grebsstyrken. Rack pulls er særligt god til at opbygge musklerne i den øvre ryg.

Rack Pull Starting Position. Set the safety pins so the bar starts below your kneecaps. Get used to this height before trying different ones.

How to Perform Rack Pulls. Once you've set up correctly, the Rack Pull is like a Deadlift: push the floor away from you until lockout.

Lower the bar by pushing your hips back until the bar hits the safety pins.

Common Mistakes on Rack Pulls. The biggest mistake is the shoulder & shin position: bad positioning kills posterior chain emphasis.

Check the video below on how NOT to perform Rack Pulls. 3 errors: shoulders over the bar with knees dropped forward, hyper-extending the lower back at the top and hyper-extending the neck. Avoid all of these on Rack Pulls.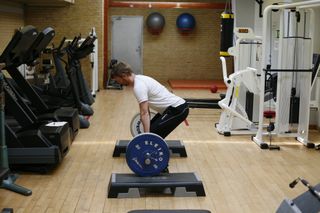 Muskelgruppe: Baglår, Baller, Ryg
Træningsform: Styrketræning
Træningsfokus: hoftedomineret
Udstyr: vægtstang